Do You Want to Promote Your Business? Are you looking for a few ways to boost the sales of your venture? You have come to the right place! This article will help you in achieving that purpose. First, we need to know that the world of business mostly consists of two types of people.
Business owners
Employees
Every matter in this world is carried out by these two kinds of people. Business owners are the people who work to achieve more profitability every day. The other type works as their employees. If you are running a small business, you should not be worried much about anything as the initial and hardest step of setting it up is already done. Now comes the stage of promoting it. In such a case, you can take help from technology. There are many mobile apps that help businesses in promotion and marketing.
This article will list 10 mobile apps that help businesses in connecting better with your customers and promote yourself in a new market. Some of these apps also help you in managing multiple aspects of your operations. Some are free, while others provide better services and charge fees usually on a monthly basis.
1. SurveyMonkey: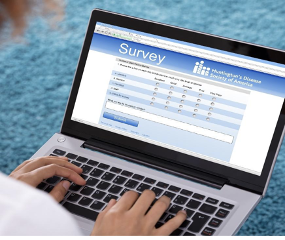 Sometimes business objectives fail to fulfil customer requirements. If you need to know exactly what your target audience expects from you, you can use SurveyMonkey for getting surveys directly from your clients. Also, this app ensures the safety of customers by getting their feedback without showing their names. In this way, they feel free to give positive as well as negative criticism which can help your business understand both its strengths and weaknesses.
SurveyMonkey helps you out by providing the appropriate format for conducting surveys. This app also provides you with a way to keep your surveys authentic by adding your logo to the survey template. The results of these surveys are reviewed by the app once a customer responds to them. Also, you have the option of sharing the surveys on different networking sites in order to invite a larger audience to take it in order to have better decision-making ability.
Price: Offering discounts for students and teachers, this app provides premium features in just $32 per month!
2. G Suite:
This mobile app gives an amazing all-in-one feature to help you store your business data safely. All you need to do is click on download and set up your app. Once you set this up, you will no longer have to worry about saving a word file in .doc format or review file in .pdf format. This app gives tremendous storage of 30 GBs that helps you in storing all your important documents at one place.
If you want to avoid wasting time jumping from one folder to another only to find a file, it is better for you to keep all the files in one place. It can help you in getting your desired file quickly. This app offers a complete set of business apps. Also, it provides emailing features to its users.
Price: Free, but offers additional features at some price.
3. Polaris Office:
You must be familiar with the features of MS Office. Similarly, for business purposes, you can find Polaris office to do the job for you. It is documenting software that allows you to edit and make documents related to your business. It features both Word format as well as Excel format for your files. Additionally, ensuring the safety of your important business contacts and emails, it is always accessible through your mobile phone. It is absolutely free of cost, which makes it a better option than other office suites.
Price: It is totally free.
4. Unifyle:
It is a cloud-storage mobile app that pairs up with other top-rated applications. It is entirely secure and contains unlimited space for storage of your important business files. If you are looking forward to launching new products, you must be lacking time for file management. It is also difficult to check if the emails are coming from an authentic source or not. Unifyle does it all for you as it views the sender background and searches accounts for you. You can also send and receive emails authentically so that the company can avoid frauds. Also, this app manages your file virtually so that your data is well-regulated, without forcing you to make any efforts. The most important feature of this mobile app is that it offers all these services to its clients absolutely free!
5. ShipStation:
Do you want to offer your clients an online ordering system? ShipStation is the right app for you! As the name indicates, ShipStation is a mobile app that allows you to get orders from the clients. It has multiple payment methods and other features like order tracking and details, etc. Even the famous site, Shopify, receives and delivers orders using this app. It is an amazing app regarding UX because it works at its best for customer satisfaction. It alerts you immediately upon receiving new orders so that the customer does not have to wait much for your response.
Once the order is confirmed, it provides you and the customer with order-tracking service and then printed shipping labels indicating your logo. In this way, the whole procedure is mainstream and does not push customers to learn new procedures for ordering. The more comfortable it is, the more customers will be attracted.
6. Evernote:
Evernote is another amazing mobile app that steps up your small business among the most successful ones of the time. This is a note-keeping app. It is a popular fact that the most successful and wise people get their amazing and life-turning ideas right before they go to sleep. However, there is a great chance that you are going to forget them after you wake up the next morning.
If you are a business person, you might be thinking about launching a product to the market the whole day. Yet, when comes the right idea? Right before you sleep. However, if you have an app installed in your mobile phone like Evernote, you will just have to reach your side table and note the idea in the form of a text, video, voice not or even graphics. Hence, your plans are forever saved and secured.
7. Dropbox Business:
This is another cloud-storage mobile app, but the reason we consider to mention it here is its exceptional properties. The system of this app is AI developed that allows it to offer you various plans for your business growth. Not only that it stores your files all at one place, but it can also be a good friend who always offers you sincere pieces of advice as it does not concern him anyway. It also provides a backup feature that does not let you lose your very important contract document deleted by accident.
Also, it is cheap, which makes it worth a while. The more you invest in it, the more you will get storage plans that are going to prove beneficial for your file management system. Its pricing starts from $12.50 per month. However, this package will not be limited to your account. If you hire an assistant, he can use the same package as this app offers the package for three users at a time.
8. DocuSign:
This is a document sharing application. Let us say that you run an online freelancing business that is smaller at the beginning. Now, the content has to be secured so that the client receives 100% unique content. DocuSign Mobile app solves the problem as it allows you to send documents to the client and receive documents from your remote employees.
This app is especially useful during this lockdown, where most of the businesses have a chance to grow online. It offers security to your files as they are safe from hacks. Though you have to pay the price starting from $10 per month to avail its services, the services availed are going to be worth your while and money.
9. MS One Drive:
This app is particularly a blast if you are a Windows 8 or Windows Phone user. You can save your important documents in its storage. But the most important thing is that once you login to your account, you are going to access your saved files anywhere on your phone or laptop. Yet, on the OneDrive mobile app, you can also edit your documents and upload photos to it. If you are a windows user, the app provides you with a basic backup that never lets you lose your important files unless you remove it from the backup storage. You can also share your files with other accounts as well. As far as your management team is trustworthy, there is no chance that this app is ever going to be a reason behind your document's leakage. Its pricing packages start from $5 a month.
10. FreshBooks:
This is another cloud accounting app that allows you to make your bills and transaction report easier and in a simpler way. Once you log in, you can access your saved data from any of your devices. It is an ideal accounting app that converts your predicted earning into real-time earning by keeping a record of every penny you spend. Its AI development also allows it to create billings itself so that you no longer have to spend money on hiring a person for the program.
In Conclusion
Each of the given apps has proven to be better than the other in many different ways. Hence, you can use any of them, and they will provide you with guaranteed support and business growth. Some of these mobile apps will help you in managing your customer feedback while others will help you in managing the operations of your business.