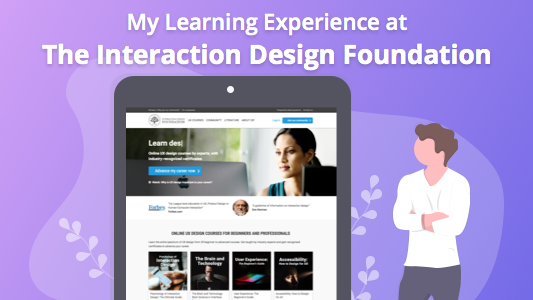 What is design?
In simple words, design is nothing but a plan for creating a product or implementing a process. And design thinking is the approach one takes to come up with a design plan to overcome the problems. So, be it any profession design thinking can be applied to create new opportunities and innovation.
Hi, I'm Jophin Joy working as a UI/UX Designer at Kony, which is my first company where I initially joined as a developer. I was always passionate about design and loved solving problems in everyday life. However, as I had a bachelor's degree in computer science it was difficult for me to land at a design job directly. So, I joined there as an associate software developer, then to get closer to my passion I started working on various UI designs doing the front-end development and slowly demonstrated my skills on design and got shifted into the design department.
In this journey of shifting from a technical to design department I came across "The Interaction Design Foundation (IDF)" which is an independent non-profit initiative established in 2002 in Denmark who are set out to raise global design education to an Ivy League standard, while at the same time reduce costs to as low as possible. I went through their blogs and the content on it was top quality, so just like any other online course, I expected it to be expensive. However, to my surprise, it was just a fraction of cost when compared to other famous online learning websites.
As it was not very expensive, I went ahead to give it a try and took up a yearly membership. Unlike other websites where you have to pay for each course you wish to do here on IDF you just have to pay for the membership, and you are free to do as many courses are you like. The best part about IDF is the structure of the courses they are so well thought and formatted. The courses there are categorized into levels as you can see below you can first choose what path of designer you are looking forward to like UX Designer, Interaction Designer, Usability Expert, etc. and based upon that IDF will suggest you, what courses you would like to take up based on your level like Foundation, Beginner, Intermediate and Advanced.
Every course is very well structured as you can see in the below screenshot you have various lessons and every lesson has questions at the end of it for assessment based on which you can track your progress of the course. I often used to complete 1 lesson each on weekdays and then 4-5 lessons on weekends.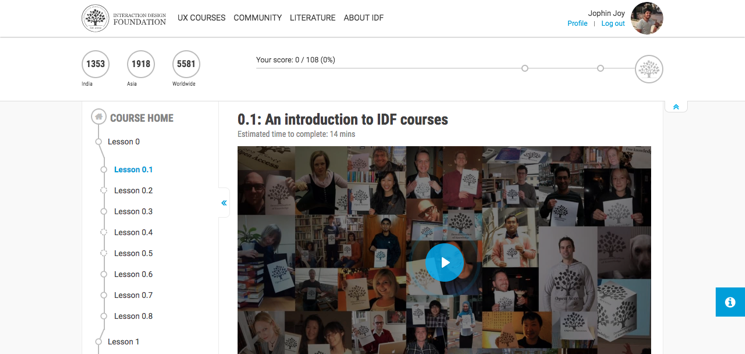 As mentioned earlier I was passionate about problem-solving thus I looked forward to becoming a UX Designer. That's how I started my course on IDF with the foundational courses:
and received distinction certificates(screenshot below) on completion which is based on the questions you have to answer after every lesson. These two courses I've done on IDF really helped me in understand the core fundamentals of UX and design thinking.
In the intro, I spoke about design so let me conclude with it. Design is not just for designers it can prove to be useful in every field or profession. Rather than just focusing on doing or making things design thinking helps you to focus on the way of doing things which will bring in innovative and creative outputs. So, in whatever profession you are, go ahead and grab the fundamentals of design thinking and see how it impacts the way you work!
Planning to get started? Then here is a referral link which will give you 3 months free off your first-year membership. Happy learning! 🙂