Hi, I'm Jophin Joy working as a UI/UX Designer. In this blog, I would be sharing my experience at my first UXIndia Design Conference. Since the day I registered for this conference I had been searching about it on the web and found it being associated to some cool taglines like India's biggest design conference and all which made me pretty excited about it. So, I was all geared up and started to the venue on time.
Day 1: I arrived at this beautiful venue Novotel HICC. It is an amazing place for conducting conferences. I've been here earlier many times for my company's meetings.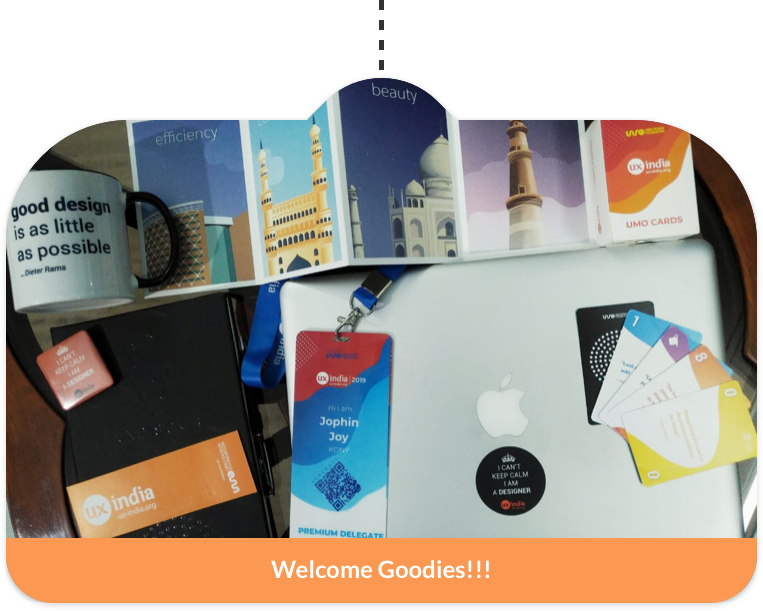 As soon as I entered they gave me these cool goodies. I really looked that dairy it's a perfect one for designers with templates of Personas, Empathy Map, etc in it. P.S. The MacBook is mine 😛 Rest all were a part of the goodies bag. It all has this quote which says "I can't keep calm I am a DESIGNER" which made it even cooler. Later, I had some welcome drinks and entered into the conference room.
The opening remarks were given by Bapu Kaladhar who is the Founder & Chair UXINDIA – UMO Design Foundation. He emphasised on the importance of the role designers play in the professional and social world. Post this keynotes from Jayesh Ranjan the Principal Secretary of I&C and IT Departments, Telangana Government & Nick Cochran Design Practices Lead, ExxonMobil.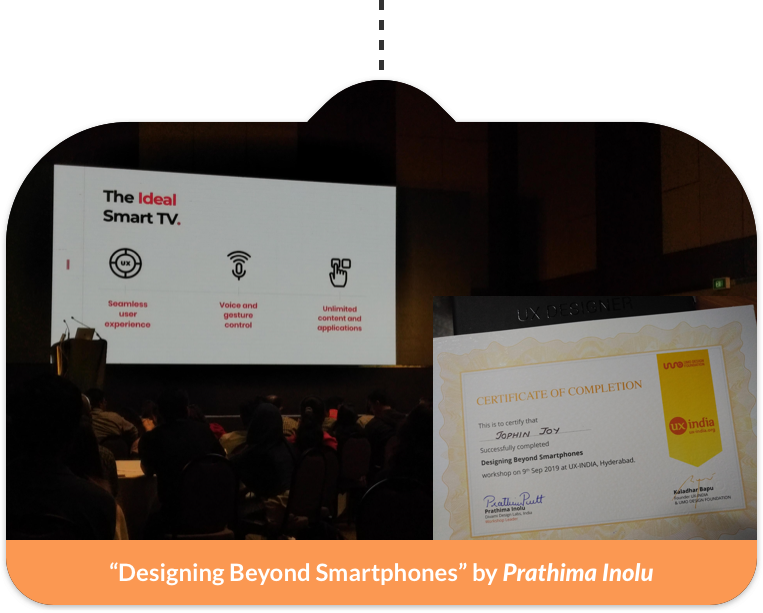 Then it was finally time for the workshop which I had been waiting for. As I registered as a premium user I got the choice to choose between premium and standard workshops. So, I chose "Designing Beyond Smartphones" a workshop led by Prathima Inolu the Chief Designer & Executive Director, Divami Design Labs, India. This workshop was focused on how to design for the upcoming tech gadgets primarily focusing on Smart TVs and Wearables. It was really an informative and energetic workshop. Firstly, we were explained all the information regarding stats, patterns, etc. Then we were divided into groups where we were given a problem statement w.r.t. smart TVs and wearables and were asked to follow the design process to come up with solutions to it.
---
Day 2: For this day I chose to go with the workshop on "Designing future mobility experiences" by Sebastian Gier the Senior Designer, Designdrives & BMW Group, Germany. I had already gone through his portfolio of industrial design product and they are amazing. He shared the process that he followed for coming up with those innovative solutions. And then we were divided into groups and given a problem statement and we followed the same process to come up with innovative ideas to solve those problems.
Later half of the day was all case studies and tech talks. I chose to go for the case study on "Designing for social change and awareness narratives with smell" by Kadambari Sahu the Vice President of Design ValueLabs, India & Sandeep Mulagapati the Product Manager Fanatics, USA. I was pretty curious to know how can smell play a role in designing. The case study was very well thought through where they narrated a story along with these tiny bottles with different smells, this combination of narration along with smell took us through the emotions of the story given it a real feel.
The next was a tech talk on "Building Design System for Managing Design Consistency and High-Functioning Team" by Stevanus Christopel VP, Head of Design & UX OVO, Indonesia. He introduced us to the modular design system architecture and also how to build and manage it. I spoke to him personally and he provided me with tips and insights on how a design system can be implemented into a service design agency.
After a couple of tech talks it was time for the Design XPO which happens every year on UXIndia. In the XPO there were two things Exhibit of Design X Social Innovation Challenge and Exhib of Design / Enterprises and Design School Stalls. It was a great platform for us to interact with Design Schools and Enterprises to know more about the careers and design roles in their enterprise. There were a lot of entries for the Design X Social challenge where students and professionals came up with innovative solutions to the travel and safety problem.
---
Day 3: Finally, it was the last day of the conference. It started off with some opening remarks by Bapu Kaladhar. After that, we had amazing keynote talks from Steve Fadden, Randy Sieffert, Ken Skistimas & Andy Vitale. And for me personally Steve's Talk on Design Career was so insightful and inspiring.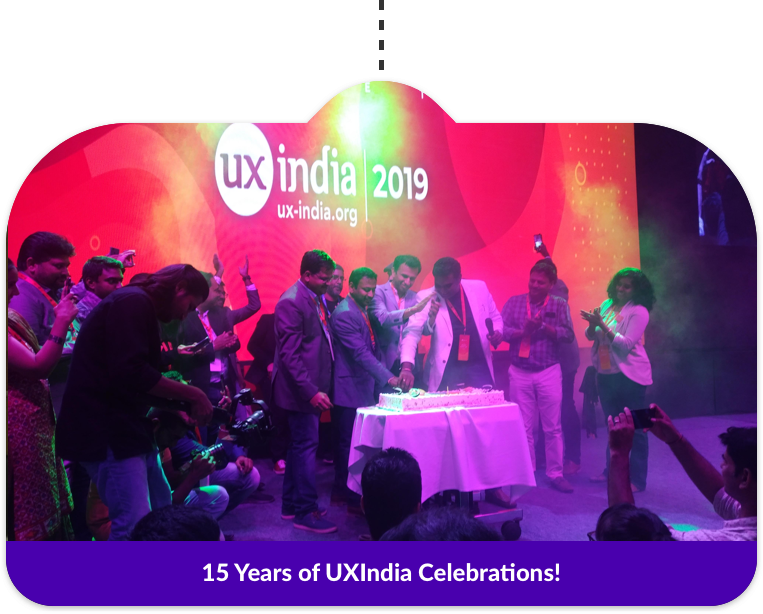 After the keynotes, all gathered near the stage for the cake cutting in celebration of 15 years of UXIndia.
After all the celebrations it was time for the Design X Awards 2019 which all the finalists were eagerly waiting for. Gold and Silver awards each for announced for Best Design Enterprise Startup, Best Design Agency & Best Design Student
As the saying goes "All good things have to come to an End" even the UXIndia conference came to the closing ceremony. The conference got over at around 5.30PM and everybody started to depart back to their homes.
---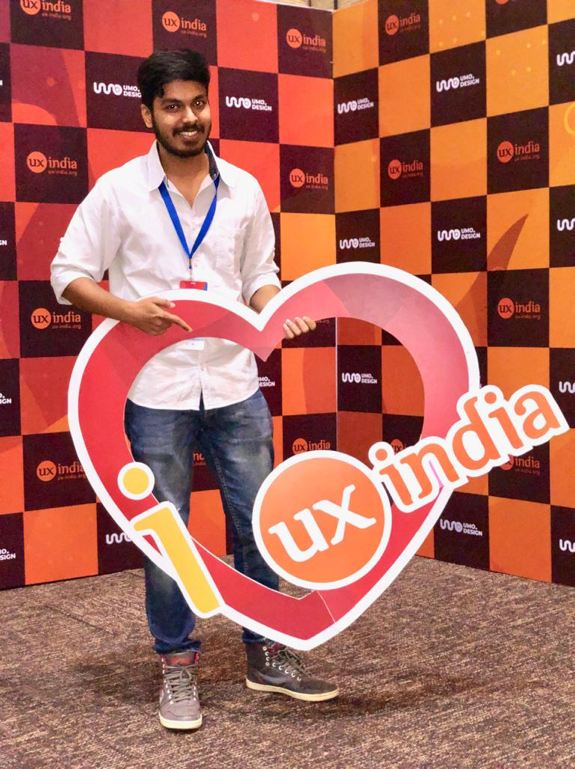 As it was my first UXIndia Conference, for me personally it was an amazing experience. I would recommend UXIndia for 3 main reasons:
○ To stay upfront and updated in terms of Design in the current era.
○ To expand your professional network by connecting with various design professionals.
○ To talk and meet great design leaders of top companies from around the globe.
Happy Designing! #UXIndia19 #uxi #designConference 🙂