Smartwatches are great accessories that could help you in your day to day activities. However, with the wide number of different smartwatches on the market, you might end up with a watch that won't have the features you would expect. In this article, we're going to give you a few tips on how to choose the right smartwatch for you.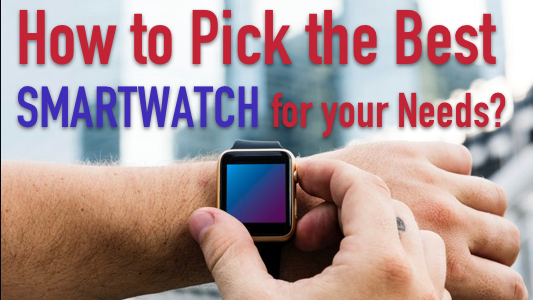 Know What You're Looking For
First, you have to assess what you need exactly in a smartwatch. Smartwatches have a wide variety of functions, and some may be more specialized than others. If your main goal is fitness, then you have to go with something like a calorie tracker smartwatch. Good calorie tracking smartwatches will allow you to do things like count calories, distance and steps walked, and sleep among other things. Some will even have sedentary alerts in case you're stagnant for long periods of times. Not all smartwatches will have these kinds of features, so make sure that you know for who the smartwatch was designed for in the first place.
Display
The display is absolutely essential and one of the most important aspects of a smartwatch. Many might not see the importance of having a good display, but you'll soon realize how important a nice and vibrant screen will be once you're trying to get a read in glaring light or after dark. The average smartwatch nowadays will either have an AMOLED display or an LCD screen. However, models with these types of displays tend to use more battery power.
Note that LCD screens tend to be thicker on average, so if you're looking for a thinner model, you may have to look for one with an OLED display.
Buttons vs Touch Interface
While most people will automatically go with a touch interface, there are some cases when buttons can be useful. Ideally, you want a smartwatch that will have both buttons and a screen interface. This will allow you to perform simple functions like going back or seeing the menu easier.
Alerts and Notifications
This is something that is also very important if you're using the smartwatch for business purposes for instance. Most smartwatches will alert you in case you get an incoming call, text message or email so you can quickly check if it's actually worth answering. If you're active on social media, you could also check if it can be integrated with your favorite platforms.
You also have to check how easy it will be to see your notifications if you missed them. Some will allow you to check your missed notifications with a quick swipe. This is one of those features that might seem minor at first glance but could be very important if you happen to get lots of messages per day.
Conclusion
A great smartwatch can be very useful if you have to multitask or if you want to monitor your daily activities. Make sure that you take your time to review each model before you make your decision.