If you are intending to establish an online presence for your business then one of the common questions that occur in your mind is that whether the mobile application does a good job or a mobile website or perhaps both. When it comes to mobile application and mobile website, they look pretty much similar and finding out the best suitable solution will completely depend on your requirement and needs and that includes your target audience, budget, needed features and functionalities, and finally the intended purpose.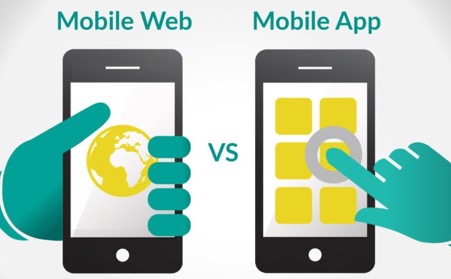 We, with having years of experience as a software development company, vironit, today would be discussing the differences between a mobile website and a mobile application and what would be the right choice.
Now, what's the difference between a mobile website and mobile application?
Before even evaluating the advantages of a mobile website over a mobile application or simply one over the other, it is important to understand the major differences between these two. Both mobile applications and mobile websites can be accessed on a variety of smart devices and that includes smartphones, tablets, etc.
A mobile website is just like any other website that we usually come across in our daily life such as browser-based HTML pages which are connected together and can be accessed. The main feature that separates a mobile website from a normal browser-based website is the fact that it is specially developed for smartphone users. With the significant increase in responsive web design lately, it is becoming extremely normal for every business to get websites developed which are not only mobile friendly but also can be accessed no matter what size of device users have – From desktop to various sizes of smartphones and tablets.
Just like all websites, mobile websites also show text content, pictures, videos, etc. which can be seen from any desktop browser. In addition to that, they can access particular features that only mobile users have such as click here to call or location mapping.
On the other hand, mobile applications are the applications which are downloaded from the app store and installed on mobile devices. Based on the device users are using such as iOS or Android, users visit device-specific platforms like Google Play Store, Apple's App Store, etc. to find and download their favorite apps. Some applications run even without internet and some need a good internet connection to pull the content and data.
Which is better – mobile website or a mobile application?
When it comes to choosing between these two, the right choice will completely depend on your business end goals. For example, you are building 3D game application then the best choice would be a mobile app but if your business goal is just to provide a mobile-friendly content to all your target audiences then, in that case, a mobile website would be the best option. Of course, some businesses will have both mobile website and mobile application but then every business doesn't need both. It wouldn't really make sense to develop a mobile application if you don't have a mobile website already. In general, a mobile website would be the ideal first step for businesses who want to build their mobile web presence. However, mobile application would be helpful for a very particular purpose which cannot be achieved through a web browser.
Mobile application advantages
The native mobile application would usually be developed for a specific platform such as Android or iOS. And there are a good number of advantages of mobile application regardless of on which platform you want to develop.
Branding opportunities
As a mobile application is completely different from a company's website, it offers creative branding opportunities to users. Which means that the businesses can try the new branding opportunities with a mobile application.
Personalization
Based on users interests, usage behavior, etc. the mobile application offers customized communication to all its users. Also, mobile applications can allow users to set up their preferences and customize it to suit their requirements.
Offline access
Some mobile applications can even run without the internet connection. They can still offer content, features, and functionalities to users even in offline mode. With this kind of benefit, users can access the information even on the move.
Brand presence
This is another major benefit that mobile applications have over the mobile website is that the brand is given real estate to your target audiences' devices. Even when users are not actually using the mobile application, they will still be reminded of the brand name that is associated with the application.
Mobile website advantages
Broader audience reach
Since a mobile website is extremely accessible across various platforms and can be easily shared. In addition to that, when it comes to search engines, mobile websites have better reachability than a mobile application which either has to be searched specially and downloaded in app stores.
Cost-effective
Depending on the level of complexity, a mobile website can be more cost affordable when compared to a mobile application. And this is especially true if you want to build your mobile application on more than one platform.
Search engine optimization and brand visibility
Mobile websites are ranked higher in search engine web pages when compared to websites which are not mobile friendly. Businesses with more are most likely to get better traffic and visitors which result in greater brand visibility and better online presence.
Which is a better option?
When it comes to choosing between mobile websites and mobile applications, the right option just depends on what your business goals are. If you want to interact and engage users with your content then probably a mobile application is the right choice. But if your goal is to offer your users just a mobile-friendly content then a mobile website would be your go-to option.