Long gone are the days when the only offerings we used to get in our cars were crank up windows and old-school cassette players. The car tech available today in our cars has undergone some serious changes and rightly so. The automotive industry is making significant strides when it comes to offering new tech to customers and with the growing competition, every manufacturer is trying to outbid the other by not just offering a car but offering a tech-savvy car that is capable of enhancing the user experience.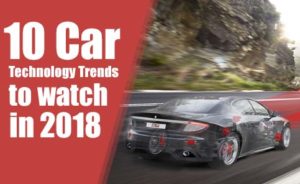 As we draw near to bidding this year goodbye, we look at 10 major car tech that will be shaping our next year.
1. Semi-Autonomous Vehicle Advancements:
There has been a lot of promises about

semi-autonomous

driving advancements within the industry with major automobile manufacturers competing in the arena to establish their presence. Tesla has already laid the groundwork and will be showing off its autonomous driving chops in 2018 by having one of its cars drive itself all the way from Los Angeles to New York. The company is also rolling out software updates to allow its vehicles work in conjunction with the hardware. Not to be left behind in the race, General Motors said that it had already produced 130 vehicles capable of self-automated driving. GM will also be rolling out autonomous software in the later part of 2018.
Mercedes Benz has long been known to come up with car tech that just makes you go "Wow". The company is now planning to bring wellness on wheels. The introduction of the 2018 S-Class is slated to bring the "ENERGIZING Comfort Function" with a massive host of functions like car climate control, seat heating and cooling, ambient lighting, massage functions on seats, audio system programming and even automatic fragrance dispensing system. all of this will be a part of the six selectable programs that are meant to enhance the motorist's well-being. If you are looking for more such informative ideas on the automobile industry then be sure to visit

Bargain Hunters Blog

.The site has a daily updated content on the latest happenings on a variety of domain.
3. Live streaming on the go:
Live streaming on PC's is not unheard of but the automobile industry will soon give that taste to motorists as well. The Lincoln Navigator's dual-screen entertainment system will come with a live stream function that will be capable of streaming directly from Android devices and the car via Slingbox. A feature bound to add to the traveling experience of motorists.
4. Finding Parking spots:
Every car owner knows the dilemma of parking their car in a crowded urban jungle. The introduction of front and rear cameras, backup cameras etc surely have added to the mix but BMW wishes to take it a level up by incorporating a brand new tech from the company "Parkmobile". The Parkmobile feature will allow you to reserve and pay for parking in more than 250 cities all across US and Canada. This will also include airport and event reservations plus available on and off street parking feature.
Well, one of the real thrills of driving a high-performance car is listening to the growl of the engine and the throaty exhaust system that swishes with the throttle. Not a great proposition for the neighbours though and seems like Ford has already acted on their wishes with the introduction of a "Quiet mode" function in their 2018 Mustang which can now adjust the sound of the engine while starting up. The driver will also be able to fine-tune this again according to their selectable modes of audible aggression.
One of the biggest problems faced by motorists is the irritating Bluetooth function on their cars which sometimes takes forever to function. Honda is looking to change that with its Accord Sedan by providing with the Near Field Communication Technology (NFC) where the motorist will only need to tap against the "N" logo on their dashboard to pair with a phone.
7. CabinWatch and CabinTalk:
Honda again is jumping into the fray here with the introduction of CabinWatch which allows parents to keep an eye on their kids while driving. This is made possible via an embedded camera and a dashboard video display. The CabinTalk feature, on the other hand, lets both the front and rear end occupants to communicate without the need to shout.
8. Active Steering System:
The Active Steering System is a step in the right direction that will help prevent accidents. The Lexus LS Sedan and the Volvo XC60 Crossover will now come with a new Intuitive Pedestrian Detection and Active Steering System that will automatically apply the brakes and steer around any obstacle that comes in its path.
Hyundai will be introducing its augmented reality treatment that will come with a new Genesis Virtual Guide leverages 2-D and 3-D tracking tech in their cars. This will come with an app which will include 135 how-to videos along with 25 3-D overlay images that will rely on the smartphone when the device forward facing camera is focused on a particular spot.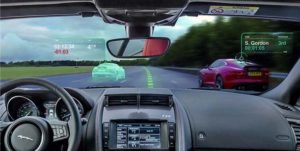 The automotive industry is slowly looking to introduce

the blockchain technology

with which will help create a trusted and accurate protocol that will help save all vehicle information to a streamlined and tamper-proof secure digital maintenance book. This tech is bound to help enormously to keep a check on fake and counterfeits car parts in the market and curbing their circulation.
So there you have the 10 car technology that will be shaping up the automotive industry in 2018.